5 Best Fitness apps StayHome
Gyms and courses across the country may be closed but the routine never ends. If you need a great workout but you don't have access to the gym equipment that you usually do, don't worry:
There's apps for that.
I've chosen my five favorites below:
Aaptiv is the OG mobile fitness app, providing alternatives to exercise classes in trendy style in the comfort of your own home. With more than 2500 on-demand exercises available and 30 new routines added weekly, this app has what you need to lose any weight. The courses cover 14 styles to strength training and yoga, including organized training and elliptical workouts.
My Fitness Pal, an Under Armour company, is not in reality a fitness app — it is a fitness monitoring device. It aims to help you achieve your weight loss goals by making monitoring your diet and exercise simple. The built-in food database contains over 300 million items, and can support virtually any diet plan that you may pursue.
You can come up with plans, whether it's weight loss, weight gain, or maintenance, and how your food intake and exercise performance impact your day-round decisions. The easy-to-use interface of the app also synchronizes with many other devices, including FitBit, to import your exercise data into real time and update your fitness goals for the day.
Over 185 free on-demand exercises led by Nike's Master Trainers are packed into the Nike Training Club app. The app offers an variety of workouts that fit every routine, with choices from beginner to experienced, low to high intensity, and 15-90 minute durations.
You can select from a range of programs like yoga, agility, strength training, cardio & HIT, and choose the type of equipment you use (or don't) to limit your choices. The app also helps you develop healthier habits with food and fitness tips from Nike's Master Trainers to complement your efforts. The Nike Club is a perfect place to live for golfers.
Download Nike Training Club app
Contrary to common opinion, in order to participate in a Peloton lesson you do not need a fancy bike or trainer The Peloton app provides access to hundreds of live and on demand classes taught by a crop of professional instructors from Peloton. Peloton gives you options, whether you're searching for cardio, strength training or getting your workout outdoors. The application also helps you to access beautifully designed playlists for any workout you want. They just expanded the free trial period to 90 days, even greater, so you can get your workout on while you practice social separation.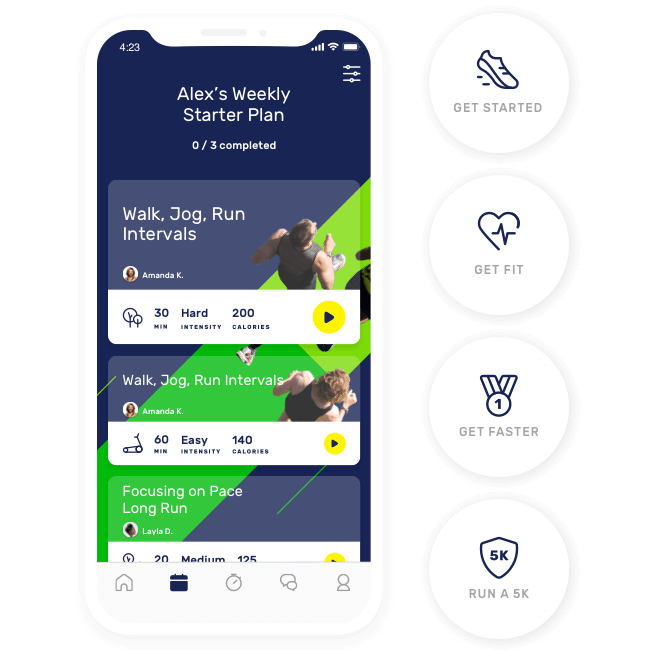 Daily Burn is a fantastic at-home fitness app, and we do need all right now. The regular subscription will cost $14.95/mo and will give you unrestricted access to fitness videos and new training plans. The $26.95/mo premium subscription gives you access to the entire archive of Daily Burn 365 workouts (a regular video expiring for a free membership after 24 hours); Daily Burn exercises are structured to be free from equipment, and provide plans for all levels of ability and intensity. If you are interested in trying any activities at home, Daily Burn offers a free trial that lasts 30 days.
Running to lose weight, training for a 5k, tracking distance or running as a fun workout? New runs, challenges & training plans every week. Choose from guided treadmill runs or outdoor runs right from your phone.
Track your mileage, pace and calories. Stream your own playlist from Spotify and Apple Music